:: 1.08.2010 ::

(Listening to:Merle Haggard: "I'm A Lonesome Fugitive")

Now, I'm not one to watch a lot of live performances online 'cause they usually sound like subpar versions of the live songs and lack anything fun to watch. This is different. THEY KILL IT LIVE ON LETTERMAN. Vampire Weekend blitz through "Cousins" and I love the added animal noises at the beginning. Makes me sad I'll be missing their show here in Oakland later this year.

Now I guess by posting this I'm part of the internet hype leading to the release of Contra, but at least this time they deserve it. Wow.

Labels: live music, vampire weekend, videos


(1:33 PM) :: (link)


:: 7.30.2008 ::

(listening to: Maritime: "Love Has Given Up")


Pleasant's Valley Road

I'm on my third day of riding my old Schwinn to work. Well, to the train station and then from the train station, and it's already getting easier. Monday was rough, the wind coming off the bay put up some chilly resistance, but yesterday it was nice and this morning was even easier.

Maybe I will still a little high from the Hold Steady show last night at Mezzanine in San Francisco. My experience, at least at first, wasn't as strong and immediate as I though it would be, but by the end of their set and before their first encore I was getting really into it. The band was fucking tight and I loved the choice of songs they played. The most surprising aspect, at least to me, was that the kids up front were fucking *into* it. I mean, hands in the air, singing along during the singalongs, jumping up and down, and both feeding Craig Finn and being fed by his energy. By the second encore, perhaps the first time I've ever seen a second encore happen well *after* the house music came on and a good amount of the crowd had left, I was right there up front, hands up, singing along, having a blast. Here I was, a 31 year old man jumping up and down at a rock show like I did when I would see Avail at Gilman Street at age 19. Maybe with all the things that have changed in my life, I'm still basically the same after all.

Here's the setlist in case you're a superfan and you're curious:

The Hold Steady @ The Mezzanine, San Francisco, CA July 29, 2008
Constructive Summer
Chips Ahoy
Chicago Seemed Tired Last Night
Sequestered In Memphis
Girls Like Status
Massive Nights
Southtown Girls
Lord, I'm Discouraged
Yeah Sapphire
Knuckles
Hot Fries
One For The Cutters
You Can Make Him Like You
Your Little Hoodrat Friend
Crucifiction Cruise
How A Resurrection Really Feels
Slapped Acress

Encore #1:
Positive Jam
Stuck Between Stations
Most People Are DJs

Encore #2:
Banging Camp
Killer Parties


Labels: live music, mezzanine, san francisco, setlists, the hold steady


(9:22 AM) :: (link)


:: 7.22.2008 ::

(listening to: Modest Mouse: "Cowboy Day (Live)")

It's been about a month and I've been really flakey on the MP3 of the week. I still want to keep doing it, but I did throw down with a 13 songs post on pizza.saur.us that includes a lot of stuff I've been into recently. Check it out, there are a lot of great pop songs in there and I'm still really into the new CSS record and am patiently awaiting for the new Annie to come out.

However, this is a project that is a decade in the making and something I've always wanted to do.

From 1994 until about 1998 I recorded every live show I went to. I didn't want to make money, but as a historian I wanted to document what I did and the music that happened all around me. I went to so many shows, mostly around the SF Bay Area and I feel like I got a lot of good stuff from venues around the bay area including a lot of good indie stuff from The Bottom Of The Hill's heyday. A lot of these recordings I traded for other tapes through the pages of Maximum Rock N' Roll magazine and the internet in its infancy, but some of the tapes I've recorded I know don't exist anywhere else.

I've decided to digitize a lot of these tapes and release them into the world. I assume I'll get better at breaking up the tracks and whatnot, but for now these are entire live shows available as an MP3. I was really good at dating all my tapes and I am entirely certain about their date and location. I used a small, good quality tape recorder initially and always wore a blue work jacket that I had altered to be able to wear a stereo condenser microphone in the center. I used good Maxell tapes and kept a great list to keep track of all my recordings (although over the years I've actually lost my list and hope to remake it someday).

I'm going to start with the first Modest Mouse show I ever went to. It was April, 1997 and they played at Mod Lang records in Berkeley (an institution that now finds a home in El Cerrito, a few miles north from Berkeley) the same night they opened for Built To Spill at Slim's in San Francisco (I have that show too). I was an avid, almost obsessive Modest Mouse fan ever since I heard This Is A Long Drive For Someone With Nothing To Think About and probably recorded upwards of 20 shows from San Francisco to Washington State before they hit the big time with "Float On." I still like the band, but I have new favorites and new groups to listen to and go see live.

I listened to these tapes a lot back in the day. I used to work as a medical courier and would spend my entire day in the car, before iPods, avoiding the radio and listening to music as I cruised Northern California. These tapes and the others I traded for provided most of what I heard in those days.

I am so happy to share these, and if you have any tips regarding recording these digitally please let me know. Until then, enjoy.

"You get creative when ordering your drinks, and yours stinks. Mine stinks."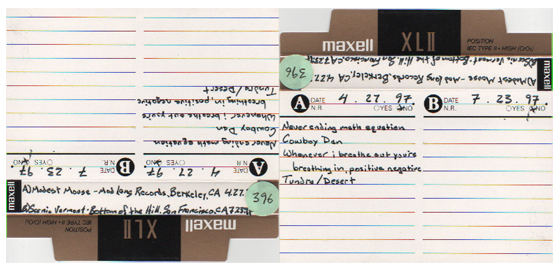 Click to play:


Modest Mouse
Mod Lang Records
Berkeley, CA
April 27, 1997


1. Neverending Math Equation
2. Cowboy Dan
3. Whenever I Breathe Out You Breathe In (Positive Negative)
4. Tundra/Desert

Labels: bootlegs, live music, modest mouse, tape trading


(11:13 PM) :: (link)